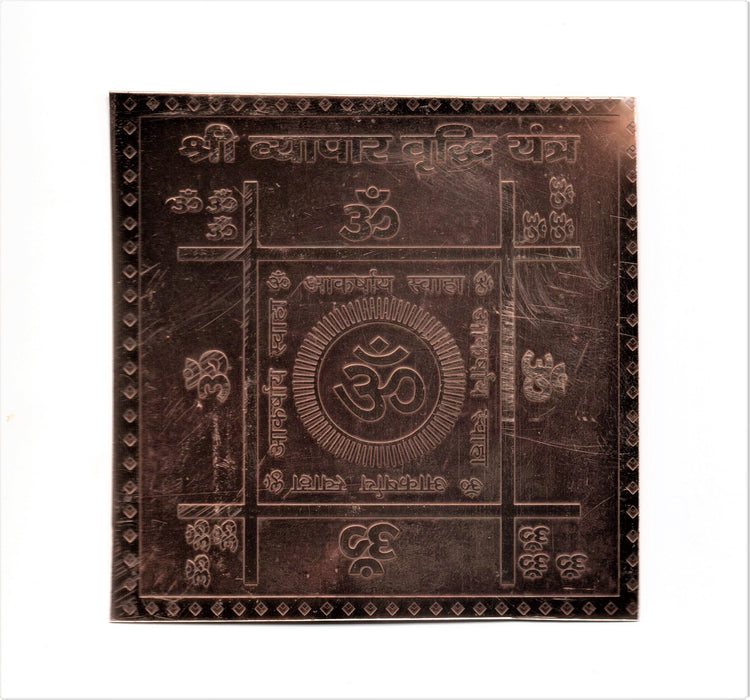 Shree Vyapar Vridhi Yantra In Copper
Shree Vyapar Vridhi Yantra
Material:- Copper
Size :- 4X4 Inch With Frame
The term "Vyapar Vridhi Yantra" appears to be related to Indian astrology and spirituality. In Indian culture, a yantra is a geometric diagram or symbol used as a meditative tool or a way to enhance certain energies or aspects of life.
"Vyapar" means business, and "Vridhi" means growth or increase. So, the Vyapar Vridhi Yantra is believed to be a yantra specifically designed to attract prosperity and success in business or trade-related endeavors. It is said to harness positive cosmic energies to remove obstacles and promote financial growth.
However, it's important to note that the effectiveness and beliefs associated with yantras, including the Vyapar Vridhi Yantra, are based on spiritual and cultural beliefs rather than scientific evidence. Their impact may vary from person to person.
If you're interested in using a Vyapar Vridhi Yantra or any other spiritual tool, it's advisable to consult with a knowledgeable practitioner or spiritual advisor who can guide you on its usage and provide insights based on their expertise in the field.