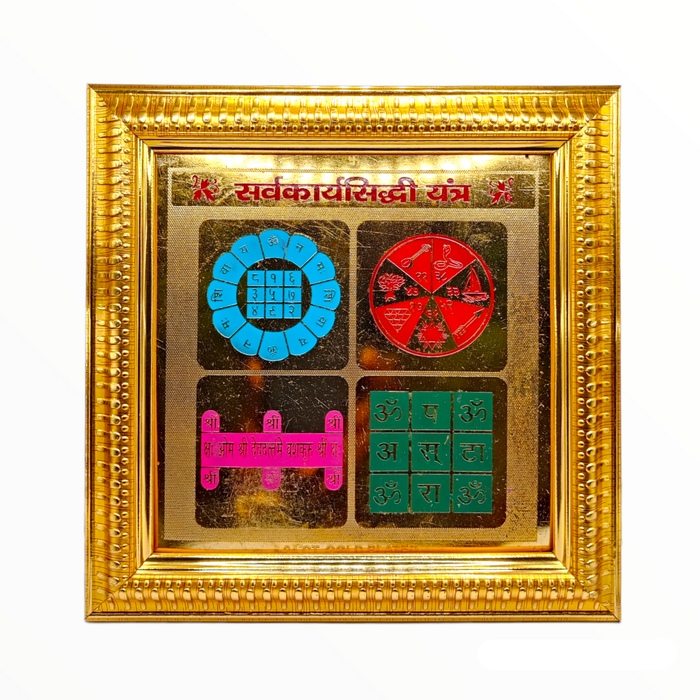 Sarva Karya Siddhi Yantra
Save

Rs. 300.00
Original price
Rs. 1,099.00
Sarva Karya Siddhi yantra is a very powerful yantra for fulfilling all the desires and objectives of a person.  Karya means "actions" and Siddhi means "fulfillment". The Karya Siddhi yantra depicts that mere possession of it will result in success of all your actions. Shri Karya Siddhi yantra brings good luck and ensures complete success in everything you do. It is said that all the deep desires, aspirations and wishes come true after the possession of Sri Sarva Karya Siddhi yantra.
Sarva Karya Siddhi Yantra is composed of a circle, divided into seven equal segments, each segment containing a figure & a number. 
Sarva Karya Siddhi yantra blesses with intellect, knowledge, confidence, intelligence, and family progress. It bestows a person with immense courage to make himself stand and fight even in the worst situations when everything is going against him.
The diagram of the Karya Siddhi yantra has symbols for success in acquiring knowledge, wisdom & healing of diseases; bestows confidence & happiness; family progress in the present and future; protection from all troubles; for power and authority. Karya Siddhi yantra also signifies success in politics and favors from superiors.
Dimensions: 6 inches x 6 inches
Mantra: Om Hreem Shreem Kleem Mam Sarva Karya Sadhaya Sadhaya Swaha!
What is a Yantra?
Yantra is a mystical instrument, which acts as a great cosmic conductor of energy, having symbolic diagrammatic representation of a Deity. It is used for harmony, prosperity, success, good health, wealth, yoga and meditation. Yantras are also referred as the abodes of the divine powers of God.
How to use Sarva Karya Siddhi yantra?
1. Place the Yantra facing the South East direction of your house or in puja altar.
2. Offer daily incense to the yantra.
3. Offer sindoor (vermilion) in the center of the Yantra.
4. Offer Prasada (sweet offerings) to the yantra.
5. Chant the Mantra of the Yantra, minimum 11 times.
6. Consume the Prasada