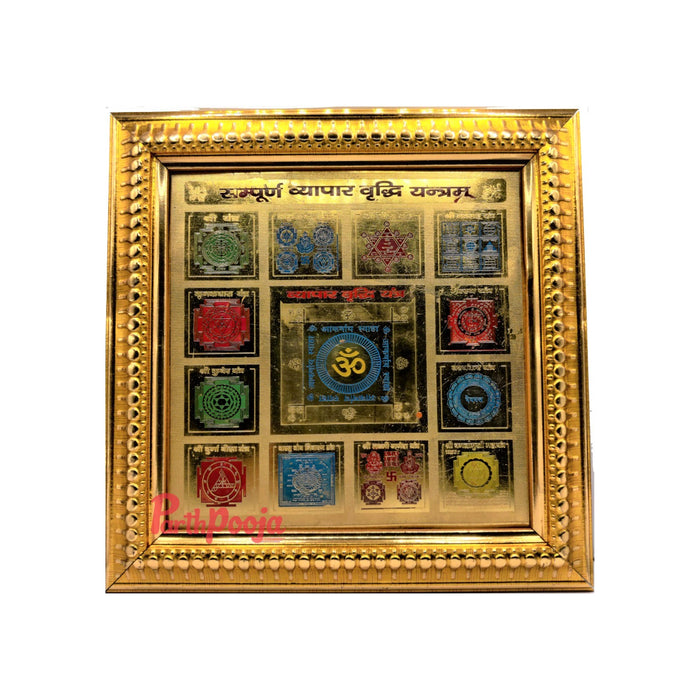 Sampoorna Vyapaar Vridhi Yantra: Most Powerful Yantra For Growth In Business
Brass Sampoorna Vyapaar Vridhi Yantra With Frame

Size :- 7 Inch With Frame

 The Vyapar Vriddhi Yantra is the most powerful Yantra for business growth, prosperity and success. The Vyapar Yantras is considered the most auspicious Yantra for the combined worship of Lord Ganesha and Goddess Lakshmi. Lord Ganesha is the God of Success, wisdom, knowledge, prosperity, clears all obstacles from path, in all ventures and undertakings. Goddess Lakshmi is the Goddess of Wealth, Prosperity and abundance.

Being successful, prosperous and wealthy is every person's dream and following that dream, we set out to achieve that goal, be it business, job or any profession. The Vyapar Vridhi Yantra can be said to be one of the most suitable and useful Yantra of today's World. When your best efforts fail to make your business successful, then this Yantra for business success can create wonders for you. The term "Vyapar' means business and "Vriddhi' means growth/expansion/increase. As the name Vyapar Vridhi Yantra suggests, it is a Yantra for improvements in income, profits, good luck, name, fame, a Yantra to attract customers/opportunities, success, expansion and wealth in business, profession and career.

Worshipping this business Yantra increases sales, turnover and profits in business or profession, and blesses the owner or holder of this Yantra with success, progress, consistency in business or profession and brings prosperity in work and career. The worshipper gets the blessing of successfully achieving targets, accomplishments, all hurdles are removed to give overall success in career and business.

This Sampoorna Vyapar Vridhi Yantra can be installed at an office or business place to usher in the benefits of this Yantra for business growth. It is common to have rivals or people who have an evil eye on a business which is well established. However, with the Shree Sampoorna Vyapar Vridhi Yantra installed, the lower intentions of anyone, to harm or hamper your business establishment or any ill attempt will be negated by the Yantra, which shows the protective power of the Vyapar Yantra.

Not only does the Vyapar Vridhi Yantra benefit in business, but it is also an excellent Yantra for those who are job searching or looking out for a better job opportunity. Therefore, worshipping or meditating on the Vyapar Vridhi Yantra along with chanting of the Vyapar Vridhi Mantra can help to manifest the suitable job for you. Yantras should be energised before use.