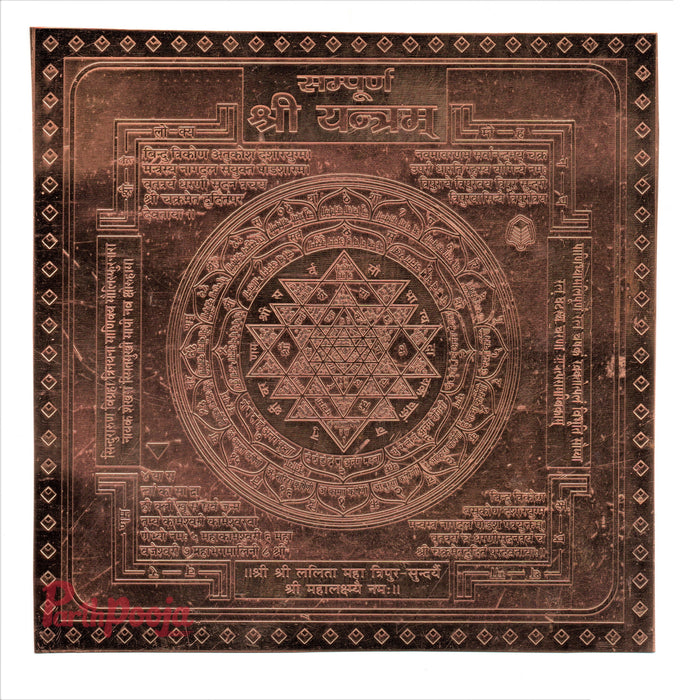 Sampoorna Shri Yantra For Health, Wealth & Good Luck In Pure Copper
Sampoorna Shri Yantra For Health,Wealth & Good Luck In Pure Copper (7x7 Inches With Frame) (1 Pc) – The Sri Chakra or Shri Yantra is a yantra formed by nine interlocking triangles that surround and radiate out from the central (bindu) point, the junction point between the physical universe and its unmanifest source.
It represents the goddess in her form of Shri Lalitha or Tripura Sundari, "the beauty of the three worlds".
Four of the triangles point upwards, representing Shiva or the Masculine.
Five of these triangles point downwards, representing Shakti or the Feminine. Thus the Sri Yantra also represents the union of Masculine Divine and Feminine Divine. Because it is composed of nine triangles, it is also known as the Navayoni Chakra.
Shri Yantra is strongly connected with Shri Suktam Stotram chant. It feeds the yantra. It energizes the yantra. Coupling of these 2 Vedic things yields the best outcome of all-round prosperity for the sadhak. Precise carving or etching of this yantra is essential.
This yantra is made in 2D & 3D forms. Energy flow will depend on its accuracy. It is a divine article and therefore needs to be handled accordingly. It is used in personal & structural vastu.
Shree Yantra is a powerful and unfailing instrument that attracts Laxmi, the Goddess of Wealth and Prosperity.
She is in fact compelled to manifest at the place where such a Mantra-energised and consecrated Yantra is placed. Having this Yantra is undeniably the easiest and best way of bidding adieu to one's financial problems forever. And its use can be as diverse as the means for acquiring wealth that manifest once it is obtained.