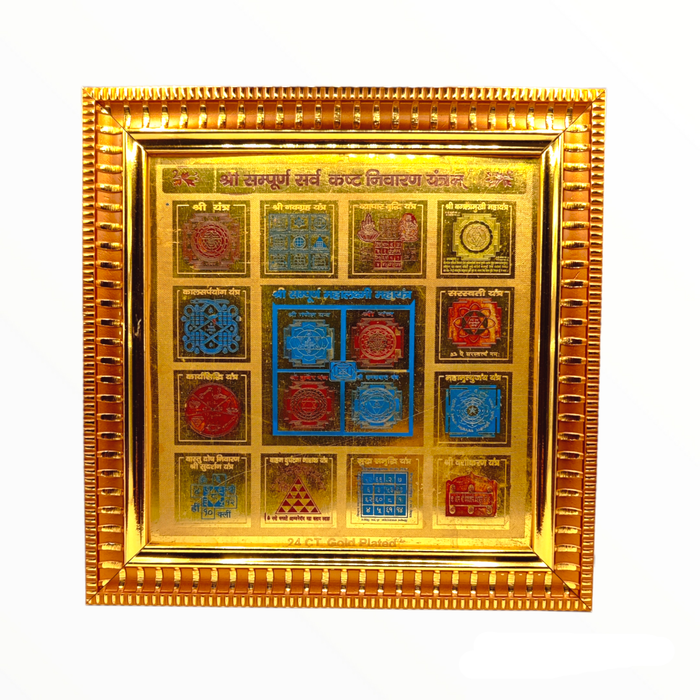 Sampoorna Sarva Kashta Nivaran Yantra
Sampoorna Sarva Kashta Nivaran Yantra With Frame
Size :- 7X7 Inch With Frame Apporx. 
Sampoorna means complete. Sarva means all. Kastha means difficulties and pain. Nivaran means removal. Sampoorna Kasht Nivaran Yantra is to remove all obstacles and bestow you with success and prosperity. It can prove helpful in removing all pains and problems from ones life. This yantra can also prove helpful by helping a person getting rid of debts and pressures. This unique yantra has 16 yantras in it:-
- Sri Yantra   - For wealth, prosperity and comforts
- Navgaraha Yantra  -  For pacifying nine planets
- Vyapar Vriddhi Yantra  -  For good business and healthy turnover
- Baglamukhi Yantra -  For getting victory over enemies and business rivals
- Kaalsarp Yantra  -  To reduce the ill effects of Kaalsarpa yoga
- Laxmi Vinayak Ganesh Yantra -  For goodluck, prosperity, removal of all obstacles
- Sri Yantra -  For wealth, prosperity and comforts
- Saraswati Yantra -  For education, knowledge and wisdom
- Karya Siddhi Yantra  -  For Getting success in all tasks
- Kuber Yantra -  For wealth and riches.
- Kanakdhara Yantra -  For luck with speculation and gambling
- Maha Mrityunajay Yantra  -  For good health and long life
- Vaastu Dosh Nivaran Yantra -  To balance vastu of your premises
- Vahan Durghatana Nashak Yantra  -  Protection from accidents and mishaps
- Sukh Samridhi Yantra  -  For happiness and harmony
- Vashikaran Yantra  -  To attract others and for favourable results
Design: Made on Panchdhatu Gold Plated sheet. Relevant colors are used which amplify the power of the yantra.
Mantra: Om Hoom Joom Saha, Om Bhu Bhuva Swaha, Om Triambhakam Yajamahe, Sungandhim Pushti Vardanam, UrvaruKamiva Bandhanat, Mrityor Muksheeya Mamritat, Om Swaha Bhuva, Bhu Om Saha, Joom Hoom Om !
What is a Yantra?
Yantra is a mystical instrument, which acts as a great cosmic conductor of energy, having symbolic diagrammatic representation of a Deity. It is used for harmony, prosperity, success, good health, wealth, yoga and meditation. Yantras are also referred as the abodes of the divine powers of God.
How to use Sampoorna Sarva Kashta Nivaran yantra?
1. Place the Yantra facing the North direction of your house or in puja altar.
2. Offer daily incense to the yantra.
3. Offer sandal paste in the center of the Yantra.
4. Offer Prasada (sweet offerings) to the yantra.
5. Chant the Mantra of the Yantra, minimum 11 times.
6. Consume the Prasada.