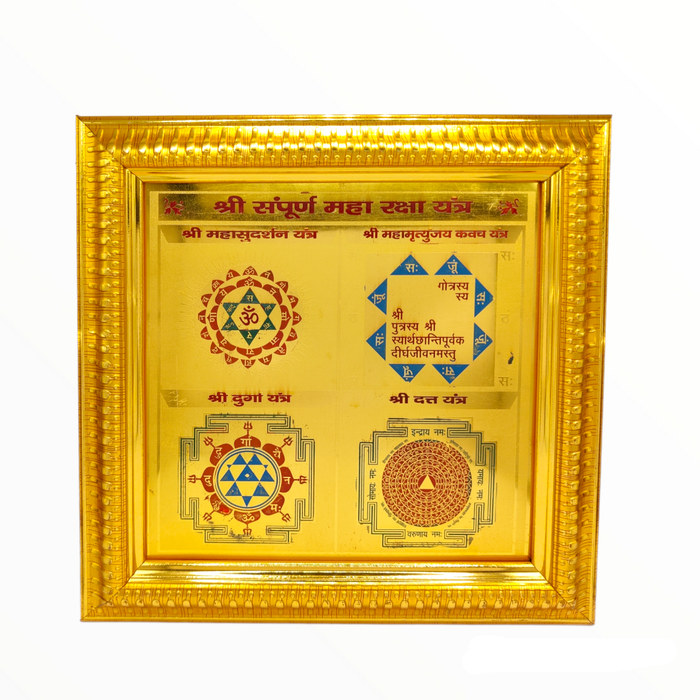 Sampoorna Maha Raksha Yantra
Shree Sampoorna Maha Raksha Yantra with Frame
Sri Sampoorna Maha Raksha yantra is to free the fear of death, grave dangers, fatal diseases and makes the wearer courageous and healthy. Sampoorna Maha Raksha yantra is set of four maha yantras "Shri Maha Suvdarshana yantra", " shri Maha Mrityunjay yantra", "Shri Durga yantra" and "Shri Datta yantra". Sampoorna Maha Raksha yantra dispels all sort of fears, influence of evil planets, fear of ghosts accidental death and disease etc.
It yantra particularly relieves one from all dreadful diseases. The use and upasana of it is most auspicious and bestows the person with wealth, health and happiness, good fortune and fame.
Design: Made in high quality Made on Panchdhatu Gold Plated sheet 
Dimensions: 7 inches x 7 inches With Frame
What is a Yantra?
Yantra is a mystical instrument, which acts as a great cosmic conductor of energy, having symbolic diagrammatic representation of a Deity. It is used for harmony, prosperity, success, good health, wealth, yoga and meditation. Yantras are also referred as the abodes of the divine powers of God.
How to use Sampoorna Maha Raksha yantra?
1. Place the Yantra facing the North direction of your house or in puja altar.
2. Offer daily incense to the yantra.
3. Offer sandal paste in the center of the Yantra.
4. Offer Prasada (sweet offerings) to the yantra.
5. Chant the Mantra of the Yantra, minimum 11 times.
6. Consume the Prasada.