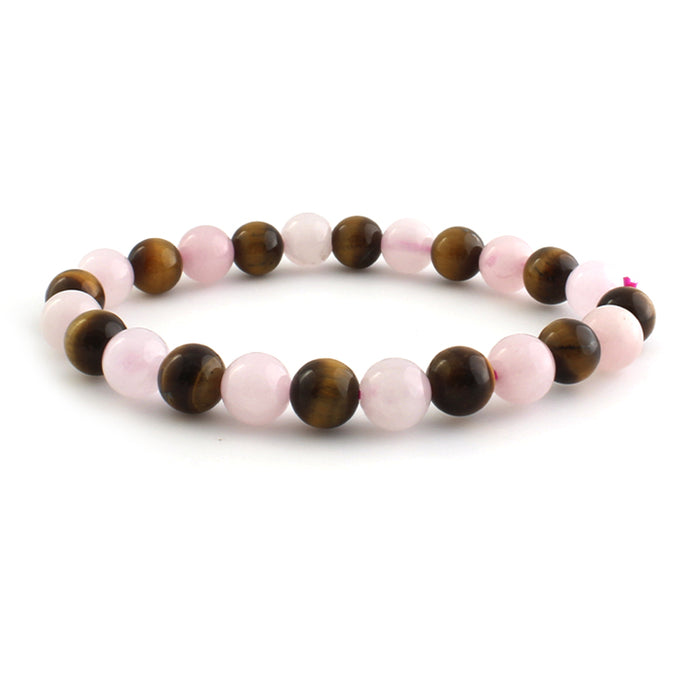 Rose Quartz Tiger Eye Combination Bracelet
Rose Quartz Tiger Eye Combination Bracelet
Rose Quartz Tiger Eye Combination Bracelet helps in healing properties notably support physical healing throughout the body.
If you are looking to step out of the comfort zone and do something new and challenging, Tiger Eye is your go-to gemstone.
Rose quartz, also called 'Stone of heart' or 'Love stone' balances & opens the heart chakra with soft, loving, nurturing vibrations of unconditional love.
Tiger's Eye is known to bring good luck and good fortune to the wearer. It is useful for recognizing one's own needs in relation to the needs of others.
Helps in increasing confidence and also trust by encouraging relationship vibes.
Tiger's Eye is a stone of practicality and balance, remarkable for soothing tensions in families and relationships where differences of opinion or expression are causing discord. It promotes harmony between people with diverse viewpoints.
However, Rose Quartz is the stone of true love and harmony. It signifies trust, love, compassion and dedication in the relationships as well as opens the heart and channelizes feelings of selflessness, love and friendship.
Rose Quartz Bracelet has healing benefits as it opens our Heart Chakra. after all, wearing Rose quartz bracelets will help improve your relationship and will promote harmony and dedication between the lovers.
Rose Quartz Bracelet is the Zodiac sign of Scorpions. in fact Rose Quartz Crystal is a quartz crystal that derives its name from its lovely rose pink color. These crystals come in a range of beautiful shades of pink. This stone will also resonate out the love energy into its surrounds, and aid all those nearby, such as your nearest and dearest.
Important information:
Safety Information:
Detergents and lotions can damage the finishing as well as color of the stones / crystals.

Certainly we believed that cosmetics and lotions can damage the stones.

Swimming and washing dishes can damage the jewelry.

It should keep in jewellery case or soft cloth bag to protect or also can be put in plastic.

Keep it away from high temperature and direct sunlight, which may cause damage to gemstones.

Exercise as well as sports activities can damage jewelry.

Specifically clean fashion jewellery with a soft 100% cotton.
Legal Disclaimer:
Mother Nature creates all stones and crystals as well as ultimate source of positive energy.

Different stones and crystals have different effects in different people as well as in different situations.

There is no guaranteed of Crystal's healing powers.

The information provided here is just based on individual experience.

We are not recommending it as medical advice and cannot guarantee its results.

Inadvertent use of this information will not be our responsibility.

This bracelet is for additional help in wellness. One should not stop the use of any kind of medicine/s prescribed by the doctor. We are not accepting any returns except any damage in delivery.