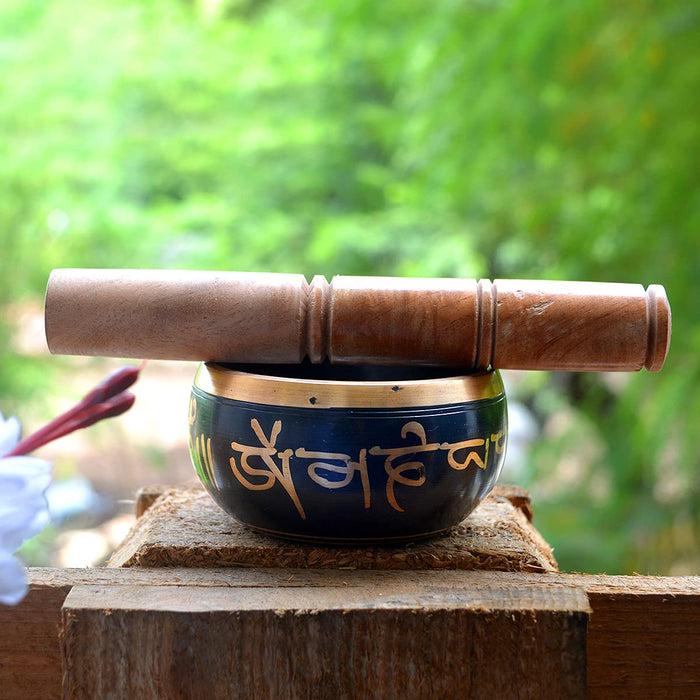 Singing Bowl | Tibetan Buddhist Prayer Instrument with Wooden Stick | Meditation Bowl | Music Therapy
 The bowl produce peaceful, calming, harmonic and soothing sound when tapped or played around the rim. Perfect to yourself to relaxing & meditation.

Singing Bowls are ancient method of healing the Mind Body and Soul. They reverberating OM sound which repels negative energies and attracts positive and healing energy.

Easy to play: Gently tap the mallet in one hand to the outside and inside edges of the bowl or play it around the rim which create unique tones with a beautiful peaceful calming and relaxing sound.

Dimensions: Size: 3.5 Inch Diameter: 1.8 Inch high Material: Metal Alloy. Package Contents: Singing Bowl and Wooden Striker Stick.
Go deeper into your meditation with the soothing vibrations of this traditional singing bowl. Singing bowls have long been used for meditation in India, Tibet, Nepal and other Asian countries. The sound that comes from a singing bowl is meditative for the body and mind and is known to heal. Singing bowls are used in the Dhyanalinga everyday as part of the Nada aradhana (offering of sound).