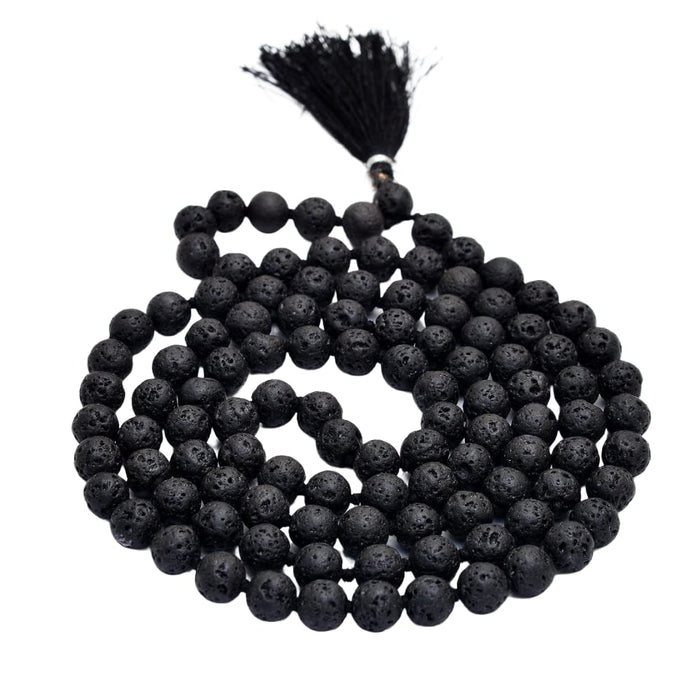 Lava Mala With Certificate 6mm Beads Japa Mala
Handmade Mala |
Beads Count : 108 Beads |
Stone Size : 6mm |
Shape : Round |
Piece : 1 |
Please See Description For Healing Properties / Stone Metaphysical Properties And Advantages. |
Lava Mala is regard as a symbol of strength, endurance and strength. We believe it to provide stability in tumultuous times.
It dispel anger, cements our beliefs and provides guidance, clarity and hope in difficult times. Mainly it is used to enhance energy flow.
Lava stone is also used to remove bad influences of Navgrah.
It removes the effect of an Evil eye on the person and especially it is very beneficial to remove harmful effects of Saturn planet.
Lava Stone is often adorn with other stones and crystals.
The Lava Stone is grounding and stabilizing and is strongly associate to the earth as it comes from the Earth's center.

Important information:

Safety Information:

Detergents and lotions can damage the finishing as well as the color of the stones / crystals.

Certainly we believed that cosmetics and lotions can damage the stones.

Although, swimming and washing dishes can damage the jewellery.

It should keep in jewellery case or soft cloth bag to protect or also can be put in plastic.

Keep it away from high temperature and direct sunlight. Which may cause damage to gemstones.

Exercise as well as sports activities can damage jewelry.

Specifically clean fashion jewellery with a soft 100% cotton.

Legal Disclaimer:

Mother Nature creates all stones and crystals, as well as the ultimate source of positive energy.

Different stones and crystals have different effects in different people as well as in different situations.

There is no guaranteed of Crystal's healing powers.

The information provided here is just based on individual experience.

We are not recommending it as medical advice and cannot guarantee its results.

Inadvertent use of this information will not be our responsibility.

This bracelet is for additional help in wellness. One should not stop the use of any kind of medicine/s prescribed by the doctor. We are not accepting any returns except any damage in delivery.