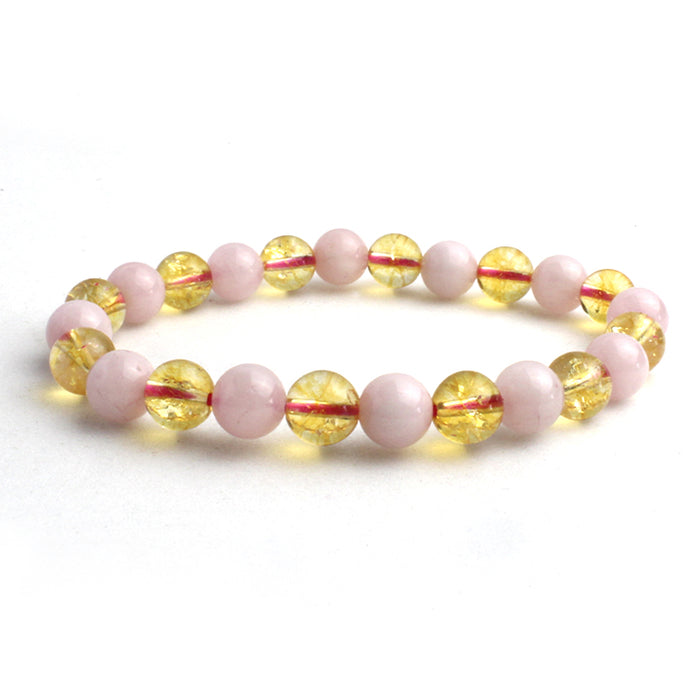 Citrine Rose Quartz Bracelet
Stretchable Elastic Handmade Bracelet |
Diameter: 2.5 Inch. |
Size: 8mm |
Shape- Round
Material: Natural Healing Stones

 
Citrine Rose Quartz Bracelet
Metaphysical Properties:-
Citrine Rose Stone bracelet – You will love Energy Muse Citrine Stones.
Citrine Rose is use for healing the spiritual self as well as it is a powerful cleanser and re-generator.
It carries the virtues of self-healing, inspiration and self-improvement.
Citrine Rose Quartz Crystral – You will love Energy Muse Citrine Stones. These manifestation gemstones will infuse your life with light, happiness and prosperity.
Citrine Rose Considered as 'The Merchant's Stone'. It is a crystal of abundance and manifestation and aids in attracting wealth, prosperity, success and all good things in one's life.
Citrine Rose Quartz stone carries the power of sun; as a result, it is warm and comforting, energizing and life giving. It encourages living life in fullness and starting a new beginning. It provides inner light and sparks one's creativity and imagination and aids in transforming ideas into realities.
Rose Quartz has its center in the heart chakra, where our affections lie more significant. Bring light, containment and protection. Fix emotional wounds and promotes self-esteem and gives us hope.
Important information:
Safety Information:
Detergents and lotions can damage the finishing as well as color of the stones / crystals.

Certainly we believed that chemicals, cosmetics and lotions can damage the stones.

Swimming and washing dishes can damage the jewelry.

It should keep in jewellery case or soft cloth bag to protect or also can be put in plastic.

Keep it away from high temperature and direct sunlight, which may cause damage to gemstones.

Exercise as well as sports activities can damage jewelry.

Specifically clean fashion jewellery with a soft 100% cotton.
Legal Disclaimer:
Mother Nature creates all stones and crystals as well as ultimate source of positive energy.

Different stones and crystals have different effects in different people as well as in different situations.

There is no guaranteed of Crystal's healing powers.

The information provided here is just based on individual experience.

We are not recommending it as medical advice and cannot guarantee its results.

Inadvertent use of this information will not be our responsibility.

This bracelet is for additional help in wellness. One should not stop the use of any kind of medicine/s prescribed by the doctor. We are not accepting any returns except any damage in delivery.