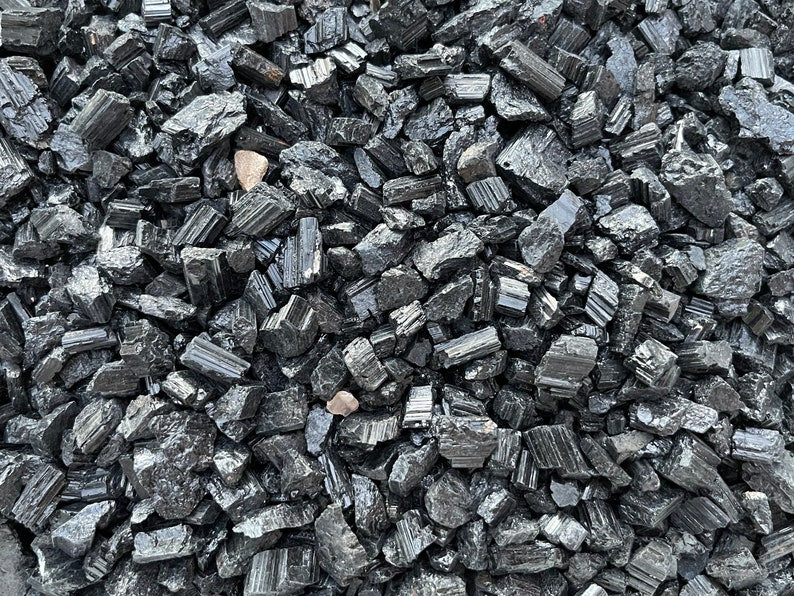 Natural Black Tourmaline Rough Stones
Black Tourmaline Rough Stones
Metaphysical properties:-
Package : 1Kg.
One can use in Reiki, Divination, Meditation, Energy Work, Sacred Healing. It can also be used to activate and balance the root chakra.
Black Tourmaline Rough Stone is a high protective stone that can repel all types of and electronic pollution.
Black Tourmaline cleanses and balances the aura. You can use Black Tourmaline to promote a positive outlook, despite the state.
Black Tourmaline cleanses, purifies, and transforms dense energy into a lighter vibration.
Use black tourmaline to protect against stress and to minimize obsessive thoughts.
Tourmaline is a key stone for physical use, and comes in many different forms and also in many colors.
It is a protective crystal,often use for healing, scarring, and cleansing.
Important information: 
Legal Disclaimer:
Mother Nature creates all stones and crystals as well as ultimate source of positive energy.

Different stones and crystals have different effects in different people as well as in different situations.

There is no guaranteed of Crystal's healing powers.

The information provided here is just based on individual experience.

We are not recommending it as medical advice and cannot guarantee its results.

Inadvertent use of this information will not be our responsibility.

This is for additional help in wellness. One should not stop the use of any kind of medicine/s prescribed by the doctor.

This Stone Are making from Natural Stones so there might be a very slight variation. This gemstone sizes(thickness) may appear slightly different from the Natural Stone. It may represent an entire lot of items so the pattern you receive may vary slightly to the one you see above but the healing properties of the product remains the same.

We are not accepting any returns except any damage in delivery.