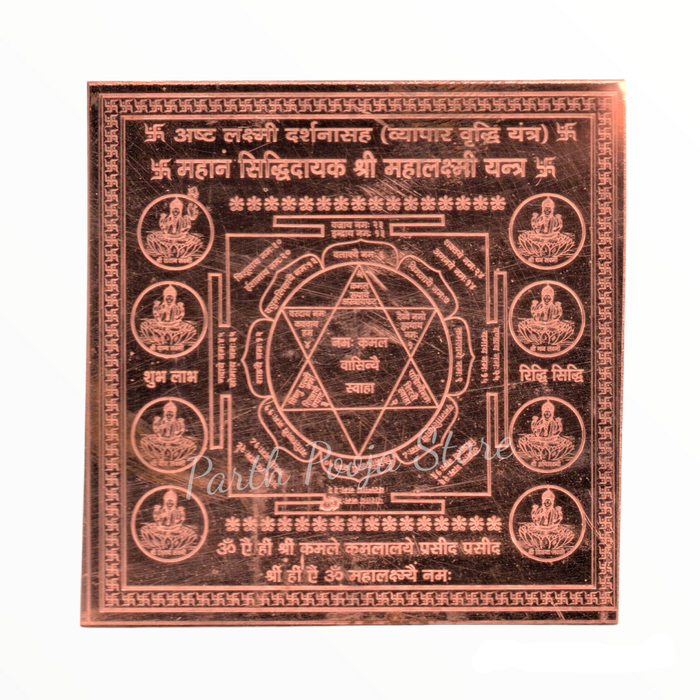 Ashtlakshami Darshanasaha (Vyapar Vridhi Yantra)
If you are a business person who is concerned about a loss in your business, want to do your business, or want to expand your business to new heights, there is a definite answer for you Astha Laxmi Darshanasaha (Vyapar Vridhi Yantra)
Size :- 4 Inch With Frame
Make :- Made In Copper.
The business's roadblocks can be removed.
The company starts making growth.
Keep this yantra at your workplace for the new business's success.
The Vyapar vriddhi yantra rescues you from debt.
How do you put the Vyapar Vridhi Yantra in your home
Put on clean clothing after you get out of the bath in the morning.
Place the sampoorna vyapar vridhi yantra in front of the altar.
Place a lamp in front of the yantra and light it.
Finally, use Ganga water to purify it.
Say "Om Shree Hreem Kleem Mahalakshmi Namah" 11 or 21 times using the Beej Mantra and the Vyapar Vriddhi Yantra Mantra.
Install Yantra after that.
Worship Vyapar Vridhi Yantra every day after it is installed.