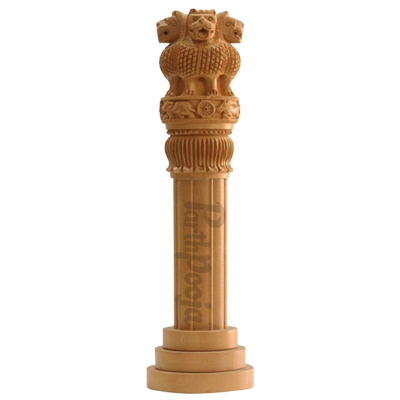 Ashoka Pillar Indian National Emblem- Ideal for Office & Home Decor Showpiece - Best for Gifting- Ideal Gift Decorative Showpiece
Ideal For Home & Office Decor And As Independence Day Gift, Republic Day Gift, Spritual Lucky Gift, Thanksgiving Gift, Anniversary Gift, Wedding Gift, Birthday Gift, Diwali Gifts,15th August Gift, Goodwill Gift.

Handcrafted ashoka pillar/ stambh made of finest wood.

Size: 3,4,5,6,8,10 inches height,Top quality with broad pillar & diameter.
There are four Indian/Asiatic Lions standing back to back on the Lion Capital and it has been mounted on a short cylindrical abacus with 24-spoked Dharma wheels. There are sculptures of elephant, a bull, a galloping horse and a lion. It is believed that these animals symbolize the different steps of Lord Buddha's life. Buddha's idea in context to the dream of Queen Maya of a white elephant entering her womb has been depicted by the elephant.