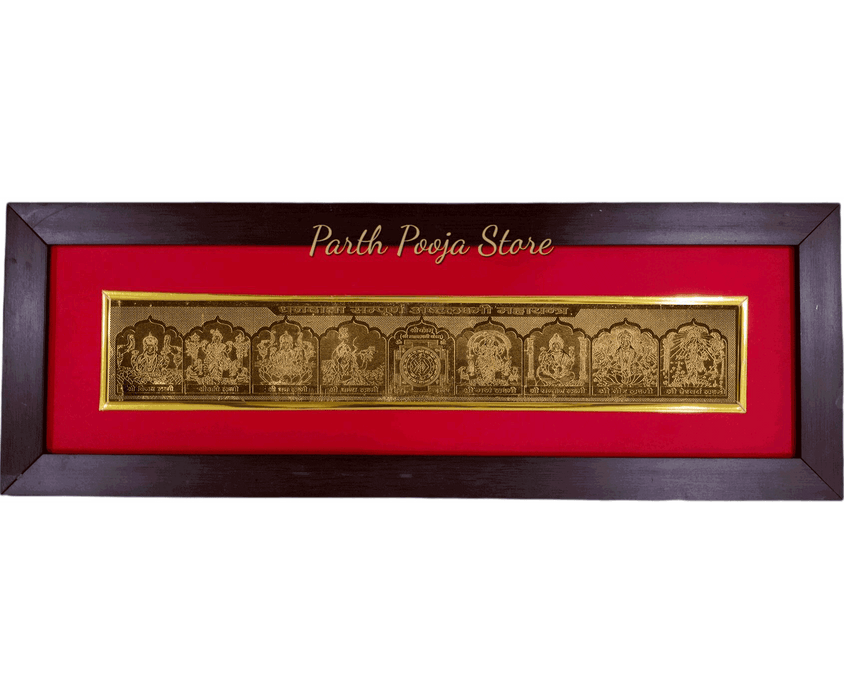 Shree Ashta Lakshmi Maha Yantram
Sold out
Original price
Rs. 1,200.00
This frame showcases eight elegant forms of Goddess Lakshmi and a Lakshmi Yantra in the Centre. This artefact has an elegant golden border frame which adds to its overall beauty. The word Ashta Lakshmi literally means Eight Lakshmi. These eight forms of Lakshmi are:-
Adi Lakshmi:
A divine and one of the most powerful forms of Goddess Lakshmi is known as the Goddess Adi Lakshmi. She is the consort of Lord Vishnu and is the primordial form of Maa Lakshmi. Adi Lakshmi is believed to be the origin of all life on earth. She is known as the Goddess of fertility and bestows the worshipper with wealth, success and happiness.
Dhanya Lakshmi:
Dhanya means grains which includes all foods. Goddess Dhanya Lakshmi is one of the most significant forms of Goddess Lakshmi, who blesses the devotee with abundance in food.
Veera Lakshmi:
Veera means courageous. According to the ancient scriptures, Goddess Veera Lakshmi is referred to as the One who is the epitome of valour, bravery, and strength. She is also known as Dhairya (Patience) Lakshmi and blesses Her devotees with courage to face challenges and the patience to go through tough times/situations. She also gives strength to Her devotees to overcome difficulties, both material and spiritual.
Gaja Lakshmi:
One of the most divine forms of Goddess Lakshmi, Maa Gaja Lakshmi is revered since ancient times as the provider of Animal Wealth which means She provides both abundance and prosperity to the ones who earn their living and food by rearing cattle. The Goddess in the 'Gaja' form which means elephants signifies royalty and power. Goddess Gaja Lakshmi is said to dispel darkness and helps the devotees to overcome adversities in their pursuit of a peaceful and prosperous life.
Santan Lakshmi:
Santan means Child or offspring. She symbolizes fertility and blesses the couple who do not have children with progeny. The couple who pray to Maa Santan Lakshmi with a pure heart attain parenthood. The Goddess is also believed to answer the prayers of small children who wish for a sibling. The Goddess also blesses the couple by bestowing good health to the child and by keeping diseases at bay.
Vijay Lakshmi:
Vijay means victory. Goddess Vijay Lakshmi is one of the auspicious and powerful forms of Goddess Lakshmi. She is said to bless Her devotees with victory in all aspects field of life. She helps people to overcome hurdles, face and handle every situation with grit and determination. When appeased, the Goddess evokes determination and fearlessness among the devotees to face any challenge and acts as their guiding force.
Dhana Lakshmi:
Dhana means wealth. Goddess Dhanalakshmi is the Goddess of wealth; She is the manifestation of the Mother Goddess, Lakshmi. She symbolizes prosperity and abundance with unlimited potential. Goddess Dhanalakshmi is appeased and blesses those who work hard and helps them achieve financial stability. She eradicates poverty and also guides Her devotees on the path to generate more income. She helps in fulfilling our desires. The Goddess is the repository of all the wealth in the Universe and helps her devotees overcome financial obstacles.
Vidya Lakshmi:
Vidya Lakshmi is a form of Goddess Lakshmi. Goddess Vidya Lakshmi provides wealth of knowledge and enhances intellect of an individual. The devotees of Goddess Vidya Lakshmi are blessed with sharp wit, increased knowledge and wisdom. By praying to her we can achieve great things in life, including name, fame power and money.