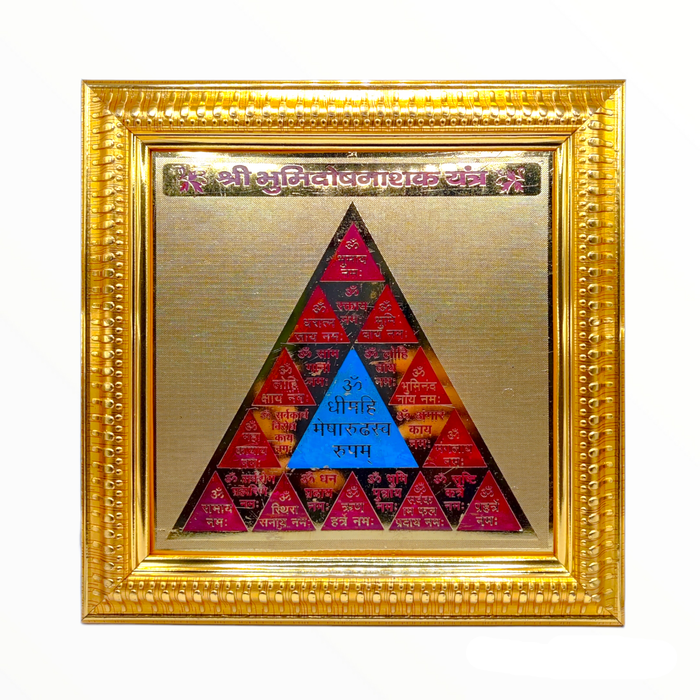 Bhoomi Dosh Nashak Yantra
Save

Rs. 200.00
Original price
Rs. 999.00
This powerful Yantra features divine geometry of triangle with several mantras and divine images of Lord Vishnu and Bhumi Devi. The Yantra helps remove the Bhumi Dosha of a home/office/place of business. Bhumi Dosha occurs when a land is considered to have bad vibes due to occurrence of some tragic event in that place or presence of negative items deep in the plot. Also, when a plot has previously been a crematory ground, it is considered to have Bhoomi Dosha. Bhoomi Dosha causes fear, stress, disease, obstacles and unexpected losses in business.
Size :- 7 Inch With Frame
Benefits:
• Negate the negative effects caused due to Bhoomi Dosha • Protects from negative influences and black magic • Brings harmony, peace and happiness

Mantra: Om Dhimahi MeshRudraSwaRoopam !

Placement: Yantra energizes the location where it is installed. You may place it near the entrance of your home/office/shop or in your living room or reception or study room or office cabin. You may keep it on a table or use as a wall hanging. Yantra is best placed in the East direction facing West. It gets energised by the rising rays of the Sun and with the divine vibrations of the East corner and provides positive transformation energies to the dwelling through its mystical geometry.