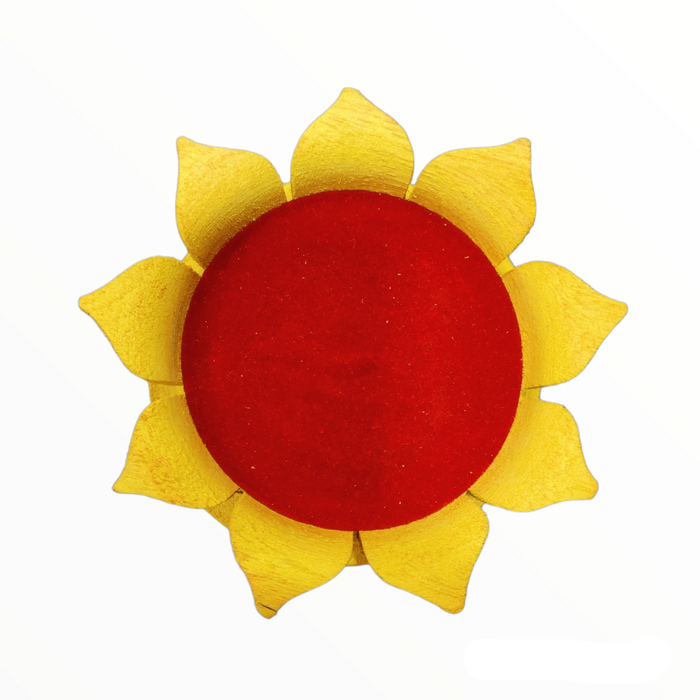 Wooden Lotus Kamal Aasan-Where god Resides, Made Of ShriParni Wood For Keeping Maha Meru Shri Yantra
Material: Shriparni / Sevan wood and covered with red velvet cloth on top and bottom.
Intricately designed Lotus petals.
It is perfect for placing Shri-chakra and other beloved god idols.
This wooden lotus is made of Shriparni wood. Because it is made of the Holy Shriparni Wood, there is this magnified prosperity energy which doubles up with Shri-yantra resulting in Financial Abundance. It is also believed by many that besides producing a huge amount of positive energy, the Sriparni Wood also absorbs pollution.
The Shriparni Wood also known as Sevan Wood is popular for its properties of repelling pollution energy and dissipating negative energies arising out of defects in Vaastu Shastra (Vaasthu Vidya) of the building. The Shriparni Tree is as ancient, as pure and as sacred as the Tulsi and Peepal Tree. Ancient Puranas state that Goddess Sri Maha Lakshmi herself is inherently present in the Shriparni Tree. That is why the Shriparni Tree is praised as the Kalpavriksha or Karpaga Viruksham of the Kaliyuga time.
The kamal aasan is covered with red color velvet cloth on top and bottom part of the aasan.
Its a 2 layered structure adorned with golden lotus petal with a rigid round base.